Hello Potato peeps, Tater Twin Jessica here! Today is a VERY special day! It's National Potato Day, it's like the Spud Super Bowl for the Tater Team!  We have a fun tradition that we have been doing for a couple of years and we're excited to continue it this year. We like to go to a restaurant that serves certified Idaho® Potato dishes and we order every potato item they have on the menu. We normally have potato skins, mashed potatoes, fries, hash browns, potato soup and more! It's always so much fun and delicious to try all the potato dishes! Its crazy how many dishes and sides can be made from potatoes! Ordering all the potato dishes at once really shows us just how versatile potatoes really are! We can't wait to celebrate our favorite holiday today and we hope that you all have a tasty National Potato Day! 
We celebrate potatoes every day on tour and we love spreading potato joy across America! Life on the road is always an adventure! Our 6 Month tour has FLOWN by and we've had such a blast! Every tour we travel across America and visit about 25 states and 60+ cities. This is my third cross country tour and looking back it is so cool how much I've seen and done!! In fact, I have visited 47 states with the Big Idaho Potato Truck! This week I added my 47th state with our stop to Michigan. I have never been to Michigan and I was so excited to visit the scenic state! We had two fun events in Michigan in Greenville and Edmore!
Our first event was in Greenville, MI for the Danish Festival Grand Dansk Parade! Greenville is the "Home of Danish Festival" so this festival is an important part of Greenville and the whole town came out to celebrate all things Danish! The streets were lined with specTATERS waving danish flags and cheering as we drove by! Our supersized spud was a hit at Grand Dansk Parade! All eyes were on our tremendous tater as we cruised down the 3-mile parade route! We had a BIG Spud Squad with us during the Grand Dansk Parade because coordinators from the Edmore Potato Festival joined us. Kassey is the lead coordinator for the Edmore Potato Festival and she was the one who recommended attending the Danish Festival Parade! Greenville and Edmore are neighboring towns so it was fun to be able to attend and promote both events!
After the parade, we drove over to Edmore to attend a promotional event for the Edmore Potato Festival! The festival starts at the end of September and we were there to help spread the word about the potato festival and to raise money with our Big Helping Signature Board. There was a constant flow of people all day and our signature board filled up! We passed out Idahoan mashed potatoes, Billy Goat potato chips and Idaho® Potato recipes throughout the day. The volunteers from the Edmore Potato Festival were there passing out brochures for their potato fest and Mr. and Mrs. Potato even made an appearance! We had a great time meeting all of the Edmore locals and exploring Michigan!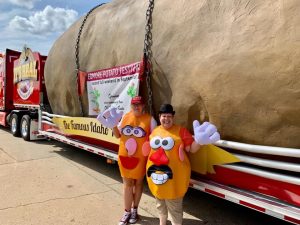 The Tater Team is now in Hickory, North Carolina and we will be attending the MDI Food show Tuesday and Wednesday. We can't wait to show of our spud at the food show and meet Idaho® Potato fans!
Thanks for reading! Until next time!
-Tater Twin, Jessica